Q:What are the films that you'd say are overrated? Or films that everyone loves but you don't really? Mine would be The Princess Bride. I've tried so hard to like that movie, but I just don't. I think it's ok, but sadly I don't see what everyone sees when they say it's perfect and wonderful. :( Oh, well. To each their own, right? :)
Anonymous
Definitely to each his/her own, but I have to say I disagree about The Princess Bride. It's one of my favorite films! I think it's hilarious and a great subversion of the fairy tale genre. To answer your first question, though, here are a few films I find overrated:
Inception, The Curious Case of Benjamin Button, Django Unchained, Black Swan, Zero Dark Thirty, Vicky Cristina Barcelona, Donnie Darko, The Dark Knight Rises, Moonrise Kingdom, Alice in Wonderland (the Tim Burton film), Sweeney Todd, Crash, Joe Wright's Pride and Prejudice, Dredd 3D, The Hangover, Scott Pilgrim vs the World and Drive.
Sorry Tumblr.  
STAR TREK: INTO DARKNESS (2013)
Full disclosure: I'm more of a Star Wars fan than a Trekkie, so with that in mind, you know that this review is from someone who doesn't know much about Starfleet, Klingons or phasers. I thought the 2009 film from sci-fi staple JJ Abrams was a fun watch, although it wasn't anything I considered particularly groundbreaking or impressive. The 2013 sequel Into Darkness was pretty much a rehash of the same standard fare, albeit with much more explosions. The film follows Captain Kirk (Chris Pine) and the crew of the USS Enterprise as they hunt down a terrorist named John Harrison (Benedict Cumberbatch) who wreaks havoc at Starfleet HQ. Their pursuit leads them to Klingon territory, where it gets dicy and interesting as they find out that things are not what they seem. 
I enjoyed Into Darkness just fine like any other science fiction movie. It offered a few laughs and some cool visual effects, but (and to paraphrase a line from 10 Things I Hate About You) I was neither underwhelmed nor overwhelmed. I was sort of just…whelmed. I didn't feel like it offered anything really new or exciting that the first film didn't deliver. It certainly didn't capitalize on the limitless, original storylines that the first film allowed. I don't really have much else to say about it save that it was entertaining enough and featured some solid performances from Pine and Cumberbatch (and Simon Pegg was quite the scene-stealer, too). I also liked that Karl Urban's Bones was central to a lot of the comedy in the film.  I have a few gripes with the film, but one that stuck out to me was the portrayal of Alice Eve's character. I felt that the way her character was written, it seemed like she was just there to flash the gratuitous hot bod in the movie and for nothing else. While she demonstrated some prowess as a science officer on board the ship, the writers didn't seem too concerned with showing her character's substance despite her obvious skills.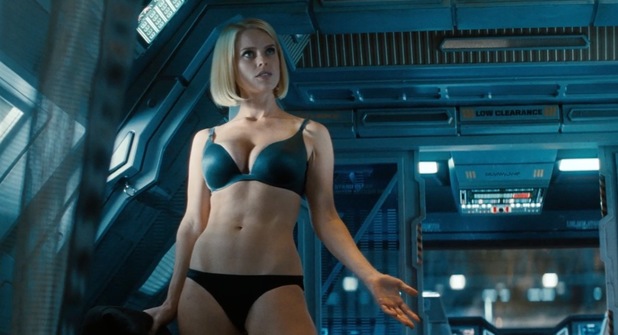 While I enjoyed Kirk and Spock's character arcs, I didn't feel like they were well-developed enough. Their arcs seemed sort of clumsily told and felt more like afterthoughts. There was a lot of cheesiness in the way their relationship was also developed, and I thought there were a lot of missed opportunities to really say something new and different about this unlikely friendship. I also felt like the pacing in this film seemed off. It had a strange, rushed ending that didn't seem to bother with any sort of climactic build-up. Because of this, I felt it lacked the emotional punch that the film was going for. There were moments in the film that were supposed to be tension-filled, and yet I didn't feel like the characters earned any sort of climax. The first half of the film is well done in that there's a real sense of storytelling there, whereas the second half seemed too preoccupied with making sure there were blatant references for fans of the franchise to latch onto.   
(Spoilers under the cut)
Q:Superb gifs! Do you make them?
Anonymous
Thanks! Yes, I do make them. I am glad you like them! 
ENTRANCED - Travis Henderson (Harry Dean Stanton)
Paris, Texas (1984) - directed by Wim Wenders. Starring Harry Dean Stanton, Nastassja Kinski and Dean Stockwell.
The title of this François Truffaut classic comes from the French idiom "faire les quatre cents coups", meaning "to raise hell" (x). The English title is a straight translation of the French but misses its meaning. On the first American prints, subtitler and dubber Noelle Gilmore gave the film the title Wild Oats, but the distributor did not like that title and reverted it to The 400 Blows, which led some to think the film covered the topic of corporal punishment (x).