SPRING BREAKERS (2013)
Spring Breakers is a 90-minute music video about the excesses of youth and simultaneous loss of innocence. Or simply put, in Harmony Korine's own words: "bikinis and big booties, that's what life is about." And oh, was there a treasure trove of both in this dizzying romp. Korine, no stranger to music videos (he directed videos for Cat Power and Sonic Youth), takes full advantage of a robust Skrillex-produced soundtrack, bigger budget, savvy marketing and the star power of the young and nubile Disney starlets leading his cast. The film follows a quartet of collegiate girls (Vanessa Hudgens, Ashley Benson, Selena Gomez and Rachel Korine) who go on a seemingly harmless spring vacation only to get mixed up with the wrong crowd, of whom James Franco's cornrow-coiffed, grill-baring, ebonics-spouting Alien is front and center. Spring Breakers is an assault on the senses: pulsating pop music reverberate against the bodies of young, tanned spring breakers as they writhe scantily clad and inebriated on the hot sands of Florida's beaches. There's no judgment and no finger-wagging; only a you-had-to-be-there series of moments that culminate in a shocking, poetic end. This latest Korine film is indeed a hypersensory experience, which the auteur himself has described as a "pop poem". You can discern some of the reason and a bit of the rhyme, but it's really meant to be a trip; you take a hit, then sit back and watch the colors swirl. 
It can certainly be said that Spring Breakers feels at home in the Korine universe. There's the familiarity of random intercutting, image repetition and cinéma vérité sort of style that we've grown to associate with him. Although some of the dialogue in the film certainly feels like scripted dialogue, sometimes recited in a manner that doesn't roll off the tongue as naturally as we'd like, it also feels very simple and uninhibited, and therefore a lot less distracting, allowing viewers to focus on the imagery. What's particularly interesting about Spring Breakers, however, is how different it is from the rest of Korine's work. For one, the film has a finished, radiant sheen that seemingly mirrors the tanned glow of the gallivanting youths. There were also some cool visual effects that served to make the film highly-stylized, such as one scene in which the spring breakers' neon bikinis stood in contrast to a desaturated beach background. Most surprisingly, there was more of a narrative structure present in this film that sets it apart from most of his work. There's a focus, direction and an intent that drives the film, although the trajectory of character developments may come across as strange to some. 
I was quite surprised that this film had a lot to say for something that Korine himself has mentioned isn't really supposed to be dissected for social commentary. For one, the juxtaposition of guns, drugs and sex with the kiddie imagery of Hello Kitty pajamas and pink My Little Pony backpacks was a very in-your-face statement, but presented in a very nuanced manner. It's a statement about the hypersexualization of youth, not unlike shows such as Toddlers and Tiaras or My Super Sweet Sixteen. You know it's wrong to see six or seven-year-olds dolled up like Barbies and paraded around like pageant queens, but for some reason you're transfixed by what you see. You know they're too young to be doing whatever they're doing, but you can't help but be intrigued by it. The same is true for Spring Breakers. When the girls camp outside a liquor store singing Britney Spears' "Hit Me Baby One More Time" and then proceed to reenact a robbery they had committed a few days prior on the parking lot, it's the same presentation of two contrasting elements that are infinitely fascinating when paired together. And Britney Spears is featured prominently in the film, apropos considering that she may be the ultimate symbol of a young woman who broke out onto the pop scene packaged as both virginal ingenue and seductive chanteuse, much like these young Disney stars are. The very particular choice of this cast, too, is a statement itself. Nearly everyone who has encountered the film notices that it stars actresses who are mostly known for their work as starlets in cookie-cutter Disney shows or films. This wasn't an accident, but something Korine sought after, and it shows his intentions as well as focus for the film. There's even a layer of social commentary in the film about race relations; in one scene set in a bar most frequented by black people, Selena Gomez's character, the religious and demure Faith, expresses how uncomfortable she is being in this setting, how she "didn't sign up for this", ultimately and tearfully begging to be allowed to go home.    
Performance-wise, James Franco was the star of this movie. His character, Alien, stole every scene he was in. Over the top and exaggerated, he was a central figure in the girls' spring break odyssey. What puzzles me about Franco is that he can play a character and go all the way with it when needed, such as in 127 Hours and this film, yet there are times when he just sort of phones it in. And maybe it depends on the project and it's really up to whether the material (particularly the script) is interesting or engaging enough, but in Oz: The Great and Powerful, for example, I found him rather bland and completely boring, a stark contrast to his character in Spring Breakers. In Spring Breakers, Franco was believable as this wannabe gangster with too much time on his hands and an unending love affair with himself as the poster boy of the American dream. Although he represented a lot of the darkness in the film, it wasn't completely out there to believe that the girls would be attracted to him and his energy. As for Benson, Hudgens, Gomez and Korine, they did a pretty good job with blending in with the spring break crowd and looking like they were just having a blast. Sometimes lines felt a little contrived when they were spoken, but maybe it's because we're just not used to hearing these Disney girls spit out obscenities so plainly. I've never really seen Gomez in a dramatic role before, so it was a pleasant surprise to see this side of her. I thought it was awesome that Benson, Korine and Hudgens just went 100% into the characters they were playing and it seemed like they understood what the film was going for and really went with it. What I liked about the dynamic between these characters is how in one second they can be so in your face and unapologetic, and then only moments later, there'll be scenes that are so tender and loving, that viewers are reminded of how innocent and young they are. In a fascinating way, Alien is also sort of a kid at heart despite his tattoos and menacing grin. The way he parades around his prized possessions is like a kid showing off his toys.
One scene in particular stands out as representative of the film as a whole - Franco plays Britney Spears' "Everytime" on a white piano as the girls - clad in ski masks and armed with AK-47's and shotguns - sing and dance along. Set against the glow of the Florida sunset, it made for quite a breathtaking scene for reasons both hilarious and poignant. Hilarious because the idea of gangster James Franco singing a Britney Spears song is ridiculous but also awesome; poignant because this vulnerable, delicate song with piano bars that spill beautifully on top of each other is being sung by young girls in hot pink outfits, twirling around with heavy artillery in hand. It's absurdist and surrealist in the best way, and in a fashion that only Harmony Korine could have pulled off, and quite successfully. The choice of "Everytime" is also really fitting, because if I remember the video for that song well, it features an angelic-looking Britney Spears in a violent relationship with a man played by Stephen Dorff, who looks every bit as menacing as Franco's character in the film. In a sense, Spring Breakers mirrors the sort of quiet intensity in the "Everytime" video, because there's the sort of pure innocent playfulness of these young girls juxtaposed with the violent crime of Franco's seedy world.
I really just loved all of the contrasting imagery in Spring Breakers. The whole idea of bubblegum-chewing kids being one coke snort away from wielding automatic weapons is so fascinating to me, and I love the different ways Korine showcases it in the film. Personally that interested me a lot more than some of the redundant imagery of breasts and buttcracks, but that's just me, though I understand how those too worked in favor of pushing the film to the level that it needed to be. I loved the use of the pastel colors of the spring breakers' bikinis against the gritty backdrop of guns and gangsters. Cinematographer Benoit Debie really did an excellent job making such contrasting images blend together in what looked like a hallucinogenic party experience.
What's especially interesting about the manner in which I decided to see Spring Breakers is that I watched it back to back with A Clockwork Orange. I couldn't have planned a better combination. The two films actually played quite harmoniously back to back, with Kubrick's classic an opera-infused story of ultraviolence, teenage rebellion and coming-of-age not at all dissimilar to Korine's pop-infused one of raging hormones and uninhibited shenanigans. I was quite surprised at how similar the two films were. Not only was, as mentioned, music quite a big deal in both films (with Beethoven figuring in a great deal into Clockwork as Britney Spears did in Spring Breakers), but the way both films ended, in a seemingly optimistic yet also dark manner, was pretty eerie in similarity. In Clockwork, Alex seems to be getting everything he wants. The government has offered him the world as recompense for taking advantage of him with the Ludovico technique, and he's also seemingly "cured" because he can now listen to good old Ludwig van without feeling an urge to hurl. But while we're supposed to root for this antihero, the message of the film is that Alex ultimately doesn't realize the error of his ways. He misses the point entirely and thinks that he is cured when really he's just right back where he started, quite the ultraviolent horrorshow. Spring Breakers, on the other hand, finds our protagonists realizing the error of their ways, but it's too late for them. They've done things that they can't take back, and their lives are forever changed for better or worse. "I'm going to be good now," one of the girls promises in a phone call to her mother. But the sober vow rings hollow when the audience realizes that being good after you've been bad - really bad - like Alex, might not be as ideal a picture as it's made out to be.
Speaking of the ending, one thing I do lament is that although there's a certain amount of danger involved, the film never really goes off the deep end. Bad things go down, yet never uncontrollably, and always in a manner that seems too measured. For instance, in one scene one of the girls is shot in the arm, and it's certainly frightening, I thought that it wasn't treated as a more pivotal scene when it should have been. I wished that the film went further than it did, but at the same time perhaps that's me trying to get a cautionary tale out of it rather than accepting Korine's hypothesis of the film as pure sensory experience, nothing more. My beef with the ending has more to do with the portrayal of full-fledged gangsters having ridiculously poor aim compared to renegade, albeit determined, teenagers. Speaking of determined, in the beginning this was what sort of puzzled me about the film: the motivation of Candy and Brit, the two girls played by Benson and Hudgens. I was initially unsure as to why they continued down the rabbit hole as far as they did with Franco's character. But then it dawned on me: at one point in the film both girls have Alien backed against a wall, guns pointed at his face and they say coyly, "What if we just used you to get here?" This was perhaps the most interesting part of the film, because as an audience member I had no idea what was going to happen next, and you could see in Alien's face he wasn't too sure either. But that line made me realize the motivation behind the two girls' actions and the carnage that follows. Alien is a sociopath, there's no doubt about it, and like moths to a flame, Candy and Brit are drawn to him and his relentless energy. But they have this energy within them, too. Of the four girls, these two are the ones with sociopathic tendencies, and once Faith, who is the moral compass in the film, is removed from the equation, the group starts getting bolder and crazier. Once Cotty (played by Rachel Korine) is out of the mix, Brit and Candy are left to their own devices, and they sink deeper and deeper into the rabbit hole. They may have needed Alien to get them to a certain point, but they didn't need him to go all the way to the dark side. So the ending was completely justified to me in terms of character motivation, though I maintain that I would have preferred it had gone down slightly differently.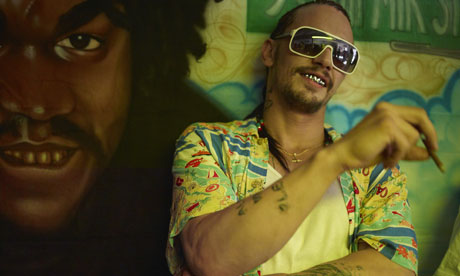 Overall, Spring Breakers is worth checking out, even if it's just for Franco's performance alone. Some of the imagery may be redundant for some, and perhaps the lack of character development (or sudden addition thereof towards the end) may bother a few viewers, but it still makes for an interesting experience. Honorable mention also needs to be made for Cliff Martinez's ambient score, which marries well with the rest of the chosen music and enhances the film's tone. It's Korine's most accessible film, not simply because he's employed more prominent actors this time around and because the subject matter arouses much curiosity and interest, but because he's done the film in a manner that is both aesthetically fascinating but also thought-provoking, even if it's unintentional. I'm personally fascinated at how the film is almost representative of MTV during its heyday, back when TRL was a thing and it was sometimes filmed during spring break, out in Florida where all these characters actually lived and breathed. I'm also really intrigued at my own reaction to this film, which I had not expected to find a lot of substance with. I had went in expecting something that would be totally free of analysis, because I had taken Korine's word that it shouldn't be judged as social commentary, yet there's an endless number of statements that this film seems to make. Whether those statements are unintended consequences of filming about spring break and young adults, we probably will never know, especially given Korine's sometimes trollish (but always awesome) way of answering questions about his work. But what's assured is that the film throws you into the spring break experience, complete with all the bells and whistles that kind of adventure brings. When the credits roll and it's all over, you're left with the same wistful feeling spring breakers feel when they pack up the beach balls, beer bottles and bongs and leave for home. There's the residue of an adrenaline high, the conflicting feeling that while experience was gained, there's a lingering sense of loss. Maybe that's a metaphor for age, and how each year we grow older and feel wiser, yet we long for times that have passed, or regret the decisions that we've made. 
Or maybe it's none of these things, and there's no moral to the story. Maybe it's all about how spring break is forever. Or at least, when we're in it, that's what it feels like. Bikinis and big booties, y'all. That's what life is about. And you know, there's a euphoria in that kind of simplicity.